Sunglasses are definitively much-needed accessories. I can't imagine life not wearing any, can you?
Sunglasses or shades are a form of protective eyewear designed primarily to prevent bright sunlight and high-energy visible light from damaging or discomforting our eyes. They can sometimes also function as a visual aid; mine are bifocal sunglasses.
Origins of sunglasses
Guess when the first pair of glasses were worn? Nope, nope and nope – the first sun blockers were made during prehistoric ages by Inuit peoples who wore flattened walrus ivory glasses, looking through narrow slits to block harmful reflected rays of the Sun.
Interesting, isn't it? The Roman emperor Nero liked to watch gladiator fights with emeralds, not a $25 pair of shades! Fancy!
Men's Sunglasses made from flat pieces of smoky quartz, which offered no correction but did protect the eyes from glare and reflection, were used in China in the 12th century or possibly earlier. Men only? It seems that women's sunglasses were not fashionable in those days!
Much later, around 1752, the British James Ayscough started to thinker with tinted glass not to protect against the sun but to cure or help with an ailment. The yellow / amber / brown tint was prescribed to cure syphilis! What is the color of your Ray Ban pair of glasses Sorry to hear that, just kidding you.
Starting In 1913, things went very fast when it came to sunglasses. Crookes lenses were developed and made from glass containing cerium, an UV light blocker.
In the 1920s, movie stars wore pair of glasses for fashion, not function. Men's sunglasses and Women's sunglasses were small, round handmade of tortoiseshell or metal. Color tint ranged from dark grey to amber. Deep green shades came in the 1930s.
The public caught on to the convenience of shades, but the cost was extremely high, up to $25 a pair! That's about $316 in 2019 – how much did you pay for your Tom Ford Sunglasses?
Fortunately, in the 1930s, inexpensive mass-produced celluloid pair of glasses were produced by Sam Foster in 1929. Sam began selling shades under the name Foster Grant at Atlantic City beaches, NJ. In 1938 it is estimated that 20 million sunglasses were sold in the US, but only about 25% of American wore them to protect themselves from the sun – Fashion, Fashion.
Today, Xiamen, China, is the world's largest producer of sunglasses, exporting 120 million pairs each year! Don't dream. Your Oakley Sunglasses are made in Xiamen.
Sunglasses Protection
Our eyes need protection against excessive exposure to light, including visible and invisible components like UV (ultraviolet).
UV can cause short-term and long-term ocular problems such as photokeratitis, snow blindness, cataracts, pterygium, and various forms of eye cancer. Medical experts advise us on the importance of wearing sunglasses to protect the eyes from UV. Experts advise the use of sunglasses that reflect or filter out 99% or more of UVA and UVB light, with wavelengths up to 400 nm.
A pair of Sunglass that meets this requirement is often labeled as UV400 – the Royal Hot sunglasses My Small Store sells are Polarized and UV400 grade, not the common cheaper 380nm. Try our polarized aviator sunglasses with UV400 with cheaper models – a huge difference.
Warning: Even UV400-rated sunglasses are not meant to look directly at the sun.
Where to get your next sunglasses?
There are many outlets, such as Sunglass Hut, which sells branded shades with prices ranging from $50 on sale to $600+ for beautiful Dior Sunglasses.
My Small Store does sell quite a few sunglass designers like:
Ermenegildo Zegna an Italian Luxury Designer,
Polaroid, a sunglasses manufacturer since 1937,
Dsquared2, an Italian/Canadian Designer
Guess, an American Fashion Designer
Ocean Sunglasses, a very colorful French Designer from the Côte Basque
Royal Hot, an independent Sunglass Designer who focuses on Luxury at low cost
BOBO BIRD, an Eco designer who focuses on handmade wood and bamboo sunglasses
My Small Store does not sell any brands like Ray Ban Sunglasses, Prada, Maui Jim, Michael Kors, Miu Miu, Tori Burch, Kate Spade New York, Oakley, Gucci, and others, first, we think these are way overpriced and have so many counterfeit copies that it no longer means anything.
We prefer to focus on affordable brands that provide a high level of UV protection while being extremely fashionable – just look at Men Sunglasses by Royal Hot, who is also starting to design shades for women – in fact, all their shades are now unisex.
Type of sunglasses
We honestly think that designers come up with their own names – seriously!
There are so many that we can list them all:
Classic aviator sunglasses, also call pilot have a dark metal frame and reflective or smoke lenses.
Browline sunglasses have a thick top frame that
runs across your brow (get it?) and extra-thin rims around the bottom half of
the lens.
Retro Square, boxy shape and thick frames, no one
can go wrong with a classic retro square style
Round sunglasses like John Lennon's iconic style
Sports sunglasses are characterized by thin, sleek lenses tapering at the temples
Cat Eye has upswept angles and retro frames, made famous in the 1950s by Marilyn and Audrey
Square sunglasses are like retro square shape sunglasses, yet they can be square or rectangular
Keyhole Bridge sunglasses add a subtle vintage feel to any pair of sunglasses. These got their name because the opening at the bridge looks like
Brow Bar shades have hit the mainstream. Adding a second brow bar that rides along your eyebrows adds fun to any look.
Want more? Nah, the most important is that you love the style you pick that fits your face and your clothing style. What is important is to make sure your eyes are protected, so, let's look at sunglasses protection again.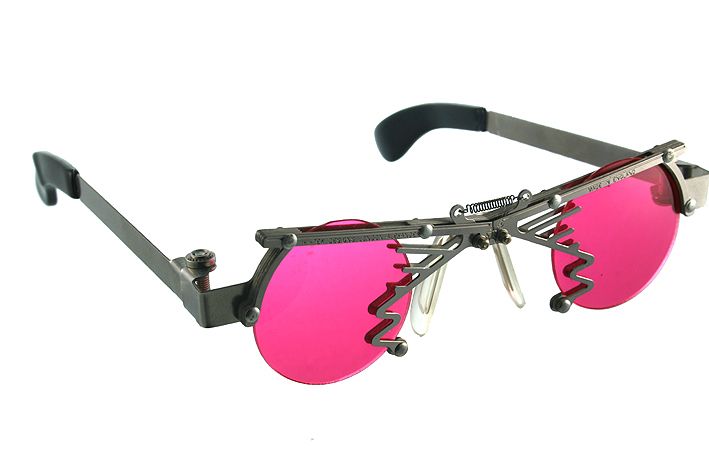 Sunglasses UV Protection
Remember, we should wear sunglasses for protection, not just fashion.
Both anti-reflective coating and polarized sunglasses cut reflection glare. Polarized lenses are very effective in water and snow reflection but also while driving. Anti-reflecting coatings reduce glare caused by light reflecting off the back surface of your sunglass lenses.
UV protection is the most important. There are 3 types of UV:
UVA has the longest wavelengths and passes through glass easily. In 2019, doctors still disagree about whether UVA damages the eyes or not! (not fun, we would like to know)
UVB rays are dangerous, making sunglasses and sunscreen a must; they don't go through glass.
UVC rays do not reach the Earth because our atmosphere blocks them (pfewwww).
The best protection is UV400 sunglasses, they protect from the most dangerous UVB wavelength, and this is true for any color you choose black, blue, red, and even transparent white.
Remember, sun damage in your eyes is irreversible, meaning that even if the sun doesn't bother you, wear sunglasses – we sell some, at low prices, and free shipping (just saying).
Sunglasses for kids – oops, we do not sell those – why?
Because we recommend talking to a pediatrician first because your children's eyes are very sensitive, you need to make sure you get the best protection adapted to your child – are we right? I know we are.
Well, this a long article to discuss men's and women's sunglasses. Lots of information, but if you have any questions, feel free to contact us. Don't forget that our shop is free shipping, 30 days returns, and full specs published, so it makes your shopping easy.
Check out our best sunglasses: